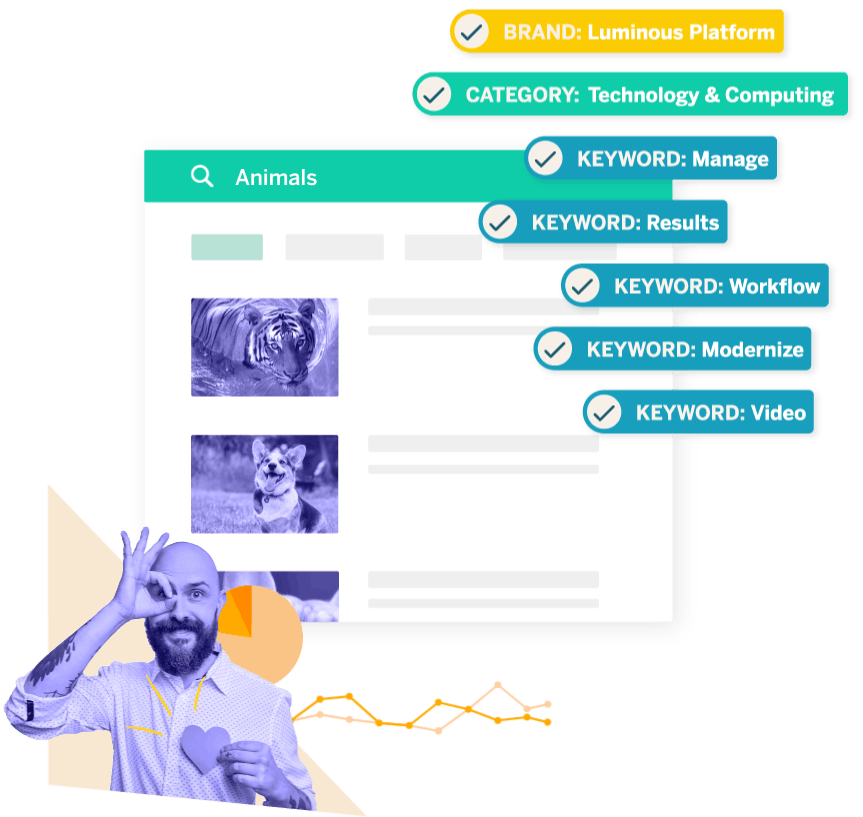 Manage
Work smarter, not harder
Expanding libraries. Multiple stakeholders. Fast deadlines. Discerning viewers. Working with video is complicated when traditional tools and manual methods underwhelm. Don't mismanage: modernize, with AnyClip's Luminous platform tools. Backed by ground-breaking automation and AI engine technology, Luminous revolutionizes your video management workflow, giving you time back and boosting your results in ways no other technology service can.
The engine you need for the productivity you want
When it comes to managing your video library, your ability to locate, curate, stream and measure your content is only as good as your metadata. Unlike traditional video management tools, which rely on manually-tagged metadata alone, AnyClip's Luminous Platform goes deeper, using AI analysis to reveal a more complete dataset.
How It Works
Luminous Engine Technology
Ingestion

Upload your video content to the Luminous Platform manually or through an automated feed. Luminous also ingests other licensed content feeds from dozens of premium sources in real-time, in case you need more content in your library.

Detection

Scanning up to 10-times faster than real-time, Luminous' proprietary AI Engine analyzes the image and audio contents of each video frame by frame, detecting known keywords, people, brands, phrases, images and actions within the video and seeing more within your content than manual methods could ever recognize.

Data Creation

Luminous instantly pins each datapoint to the exact timestamp within the video where it was recognized. This data makes your content discoverable and searchable within your library and gives you the power to search within video itself to examine specific moments close-up, with the click of a button.

Organization and Modeling

Luminous organizes content data into taxonomies -- or virtual folders -- aligned to the Interactive Advertising Bureau (IAB) Tech Lab's Standard Content Taxonomy and by more than 10 brand safety categories. Luminous can also adapt your site's proprietary taxonomies, if needed.

Tools & Player

Luminous feeds data about each of your content assets into the platform's many tools and video players, enhancing automation capabilities, powering unique ad solutions and tracking content performance results.

Sporcle has had the opportunity to partner with AnyClip to provide a seamless and engaging video strategy that has increased video watch time and video revenue. Working closely with a dedicated team at AnyClip has proven to be efficient and easy. Their feedback has been extremely helpful and honest, and we look forward to what the future holds.
Client Challenge: Maximize content engagement and monetization opportunities for a major business & finance site

AnyClip Solution: Luminous analytics revealed differences in weekend vs weekday content engagement patterns. This data helped editorial teams to program weekend content to align with audience interests. This data also helped the site's marketing team to develop a weekend reader persona.

Before AnyClip, our readers complained about the content from our previous provider, as it often had nothing to do with Apple at all. Because their video was out of sync with our target audience, our revenue kept dropping. Since working with AnyClip, we now have video that's relevant and a way to easily see how we're doing. Our revenues are up and we don't get complaints from our readers anymore!
Be Smart With Your Solutions
Get time back to focus on other important work. Use Luminous' data-powered solutions to manage your content, engage your viewers and monetize your audience more efficiently.