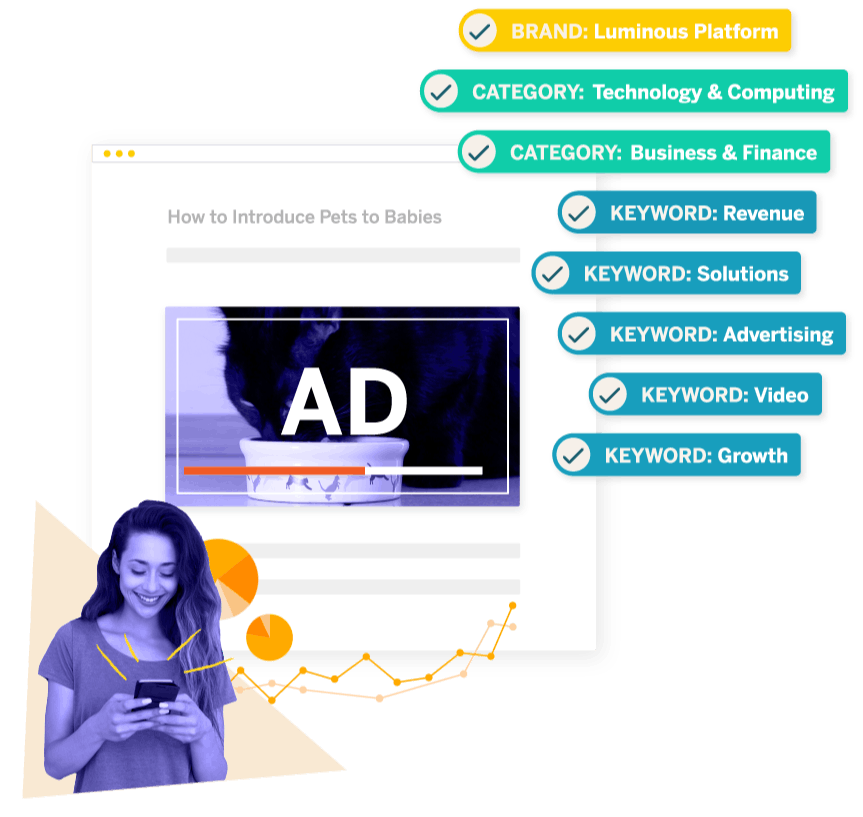 Grow Revenue
Advanced technology to advance your business
You have a valuable audience that marketers are seeking out. Help them to reach and engage your viewers effectively by giving them more opportunities to deliver their messages with impact. AnyClip's Luminous Platform makes it possible, combining revolutionary AI-powered tools and services with optional monetization support to grow the value of your video advertising business.
Make Inventory

Create more video ad inventory by engaging your site's audience with meaningful video content experiences.

Use Luminous Platform tools to manage your own video content library and access free feeds of licensed content from dozens of other premium sources
Build playlists and stream content wherever your audience engages with your brand using Luminous video players
Keep viewer attention -- and create more ad opportunities -- with content-data-powered engagement tools

Market Your Capabilities

Support your customers' campaign objectives more accurately using Luminous content data solutions.

Boost campaign performance by aligning ads with the video content themes, people, brands or keywords known to engage your viewers best
Validate your pitch with content data-powered insights. Prove your audience's interest in your client's brand, category of product, or campaign theme
Increase the value and demand for your inventory by utilizing floating player formats, which dramatically raise the viewability of your content and ad
Sell sponsorships of curated content collections brought to life in premium streaming video experiences facilitated by Luminous' video hub pages
Add new dimensions to your audience DMP by overlaying video viewer interaction data, powered by the Luminous Platform

Manage Campaign Controls

Increase the value of your video inventory by helping marketers to control the context of where their video ads appear.

Help campaigns make a bigger impact by matching ads with relevant video contexts on your site. Customize campaigns using content data to segment delivery by over 100,000 criteria, including people, brands, keywords, actions and the Interactive Advertising Bureau (IAB) Tech Lab's Standard Content Taxonomy
Protect your customers from potential brand safety risks within your owned or licensed content. Automatically detect and filter video content by more than 10 brand safety categories and direct campaigns to avoid appearing adjacent to flagged content at the discretion of your customers
Champion your clients' brands to in-market shoppers and conquest attention away from their competition by using content data to deliver ads next to video content featuring their products or those of their competitors

Monetize Your Audience

Grow revenue by selling your video inventory to marketers in all the methods, marketplaces and formats you need.

Use AnyClip services to access new sources of demand to fill in behind your direct-sold campaigns, or get full monetization support from our team
Sell your inventory directly or programmatically
Support both VAST and VPAID ad formats
Layer traditional cookie-based targeting on top of, or in place of, your Luminous content targeting capabilities
Extend your audience at times of high demand by accessing fully-targetable, brand-safe inventory on other premium sites active within AnyClip's Luminous portfolio

Measure Your Success

Track revenue performance and identify your most-valuable content categories for monetization and engagement.

Visualize revenue performance in real-time through dynamic dashboards
Track content playback data to know which videos, categories, people and brands engage your viewers best
Access customized reporting and analytics support when you need it

Sporcle has had the opportunity to partner with AnyClip to provide a seamless and engaging video strategy that has increased video watch time and video revenue. Working closely with a dedicated team at AnyClip has proven to be efficient and easy. Their feedback has been extremely helpful and honest, and we look forward to what the future holds.
Challenge: During the weeks of the Coronavirus crisis (when demand rates and volume were both experiencing record lows), a major entertainment publisher sought to optimize the performance of their below-the-fold fixed video player to lift revenue.
AnyClip Strategy: Utilize a floating Luminous N player, which would initially appear above-the-fold. Reconfigure ad serving waterfall to serve AnyClip demand behind publisher's programmatic campaigns.
Results: Two weeks after implementing recommended changes on all site sections and pages (including their homepage), publisher's revenue increased by more than 70%, with average fill rate up 152% and average RPM up by nearly 2X.
Our users come to the site to slice and dice a lot of data. Screen real estate is always at a premium. The AnyClip solution and the team behind it are really flexible. They help us with content and monetization that adapts to our site and help us keep our users' needs front and center.
Be Smart With Your Solutions
Get time back to focus on other important work. Use Luminous' data-powered solutions to manage your content, engage your viewers and monetize your audience more efficiently.