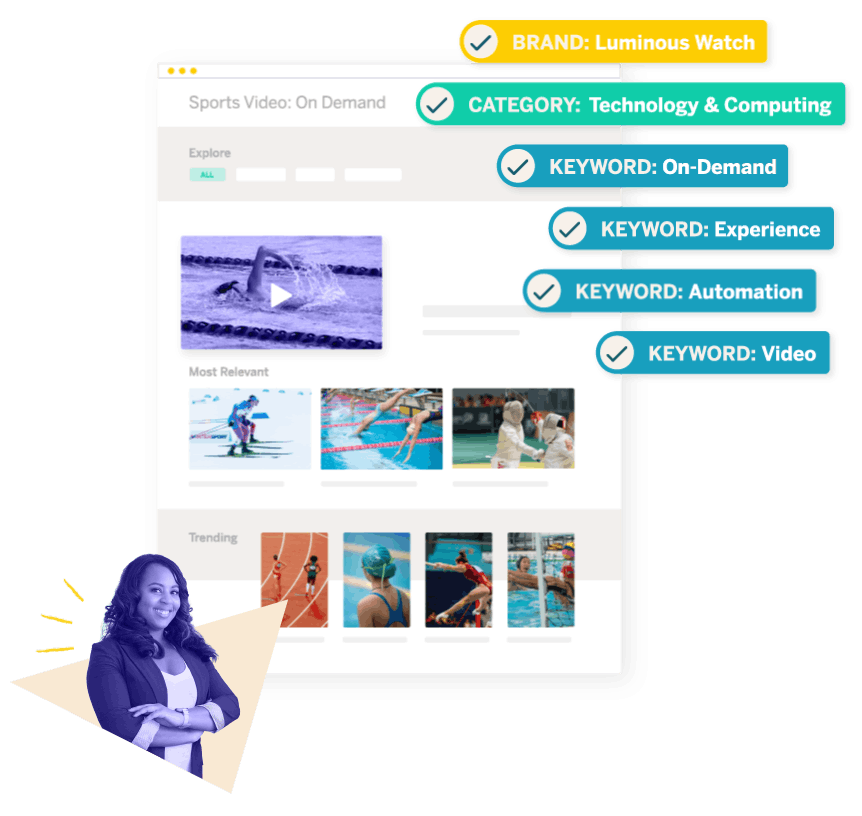 Luminous Watch
Host streaming experiences worth tuning-in for.
Break into -- and thrive in -- the lucrative streaming video business with Luminous Watch. Host dynamic on-demand video experiences that mimic the functionality and design of today's most popular VOD services, powered by Luminous' patented AI technology.
VOD Streaming Video Experience
Be immersive. Be immediate.
Unlike traditional video solutions, which rely on expensive technology stacks and manually-operated content management systems, Luminous Watch offers refreshingly accessible, technologically-advanced tools and services that help media companies of any size or type to grow a streaming video business using owned, licensed, short-form or long-form content. Luminous Watch technology also works great for virtual events, helping organizers to create valuable content experiences before, during and after their event livestream.
Dynamic VOD streaming for all

Arrange your site's video content with Luminous Watch's customizable VOD page template that's easily added to any website or mobile app. Within your page, viewers can search, browse, watch and share videos on their social networks. As viewers engage, the platform automatically understands their interests and dynamically recommends other relevant or trending videos for them to enjoy.

Manage and curate with data-powered controls

Powered by AnyClip's patented AI engine, upload, analyze, store and manage your video content libraries instantly through Luminous Watch's back-end platform. Use the data of your video content to structure your libraries and quickly find the content you need. Curate playlists and build channels manually, or lean on Luminous' AI technology to build playlists for you. Need content? No problem. Premium licensed video feeds are available through Luminous Watch standard service models, at no additional cost.

Monetize your growing video audience

Luminous Watch offers flexible monetization capabilities for media companies of all types and sizes, including pre-roll, display and branded content ad experiences as well as subscription-based models for publishers.
Award-winning Video Solutions
The winner of the 2020 Google News Initiative's Innovation Challenge, Luminous Watch is easily added to any website or mobile app and is available on a pay-as-you-grow service model with no up-front cost. Use Luminous Watch to grow your audience -- and your business -- sustainably, with revolutionary technology in your corner.
Luminous Watch is customizable to fit the look and feel of your website or mobile app and can be added to your navigation in seconds by pasting a code snippet into your CMS. Behind the scenes, AnyClip will host and support your page experience for you, helping you to avoid the costly and complicated storage, delivery, and coding challenges of other streaming solutions.
Use Luminous Watch back-end features to analyze, access and organize your video content library. Store and manage your owned video assets and access feeds of licensed content from dozens of premium sources at no additional cost. Search, tag, and structure large libraries of short-form and long-form content using the Luminous Platform's data-powered management tools.
Host Engaging Experiences
Through a premium VOD experience, Luminous Watch aggregates collections of short-form and long-form videos that entice viewers to search, explore, discover and watch meaningful video content on your site. Stream content directly from the main Luminous Watch experience page, or click into a video to view it on a dedicated landing page. Viewers can also share videos with their followers on social media with a click of a button.
Stream live events directly from Luminous Watch by connecting in a feed source or integrating directly with AnyClip's CDN. Keep viewers tuned in before and after your event by surrounding your stream with other relevant videos to watch.
Luminous Watch blends editorial curation with AI-powered automation to create highly-relevant content experiences that keep your audience engaged. Locate and organize content featuring specific people, brands or topics and create playlists to cluster similar videos together. Or let Luminous Watch build dynamic playlists for you, powered by the platform's patented AI technology. Automate your programming throughout the hub experience to continuously adapt content recommendations according to actual user engagements or measured "trending" signals.
Luminous Watch requires minimal editorial effort to maintain, automatically updating playlists to include newly published videos and optimizing content recommendations in real-time, throughout the day.
Monetize your growing video audience. Sell your video ad inventory directly or access AnyClip's demand services to backfill behind or wholly-support your ad sales efforts. Raise the value of your video ad solutions by giving your advertisers flexible content targeting or brand safety filters, powered by your video content data.
As your business grows with Luminous Watch, use the Platform's advanced analytics tools to visualize revenue performance and determine your highest-valued content opportunities. Track content performance trends to know which videos, categories, people and brands engage your viewers best.
Have a question or need help getting started? AnyClip support teams are available 24/7 to train and support Luminous Watch customers.
Advanced tools. Simple pricing.
There's never been a better time to jump into the stream!
Luminous Watch's AI-powered tools can help you launch and maintain a successful VOD streaming business quickly and efficiently. With Luminous Watch, there are no up-front costs to get started. Pay only for the streams you monetize and share revenues when AnyClip monetizes for you.
Better Together
The Luminous Video Platform offers media companies four, data-powered video player products. Use one player or use them all simultaneously for better insights and results.
From the Resource Library
Other helpful video advice
Our Luminous N player in action!