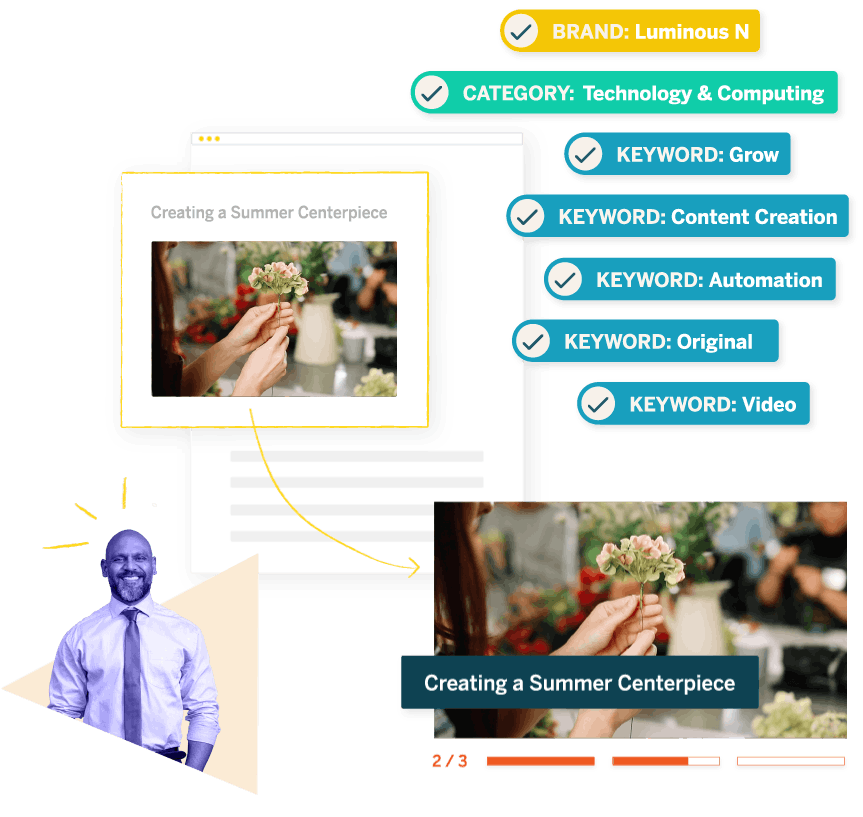 Luminous N
Engage and grow with video
AnyClip's Luminous N is a data-powered video content creation tool and streaming video player in one. Using advanced AI technology and automation features, Luminous N combines elements from your site's most important articles into an exclusive, native video content experience.
Native Content Recommendation Player
Enhance the value of your content
Powered by AnyClip's patented AI engine, the Luminous N player uses advanced back-end technology to analyze trending article content on your site, combining engaging headlines and header images to surface a streaming video experience for your viewers.
Grow Revenue With New Ad Opportunities

Create new advertising inventory as users engage with Luminous N content. Use this inventory to bolster your direct-sold ad opportunities or access monetization support through AnyClip's demand services (or both!).

Keep Viewers Longer

Luminous N keeps user attention on-page with streaming video content that's unique to your site while sparing editorial teams the time and resources of creating new video assets.

Grow Revenue

Recirculate traffic to your most valuable pages by promoting them and providing easy access through Luminous N's interactive player experience.

AnyClip's turnkey on-site video solution has provided us with an additional monthly revenue stream that requires virtually no maintenance on our end. I would recommend AnyClip to any digital publisher looking to enhance their site's video experience.
Challenge: During the weeks of the Coronavirus crisis (when demand rates and volume were both experiencing record lows), a major entertainment publisher sought to optimize the performance of their below-the-fold fixed video player to lift revenue.
AnyClip Strategy: Utilize a floating Luminous N player, which would initially appear above-the-fold. Reconfigure ad serving waterfall to serve AnyClip demand behind publisher's programmatic campaigns.
Results: Two weeks after implementing recommended changes on all site sections and pages (including their homepage), publisher's revenue increased by more than 70%, with average fill rate up 152% and average RPM up by nearly 2X.

The performance of the AnyClip platform has far exceeded our revenue expectations, and we've also been incredibly happy with the communication and responsiveness of the whole team there. AnyClip continues to innovate in the video advertising space, and they have eagerly worked with us to A/B test different video player parameters and optimizations to further increase revenue. AnyClip has been a great player to have on our side.
Advanced tools. Simple pricing.
You've got a business to run: growing revenue shouldn't cost you a fortune.
Luminous N costs nothing and delivers you revenue when AnyClip monetizes your inventory.
Better Together
The Luminous Video Platform offers media companies four, data-powered video player products. Use one player or use them all simultaneously for better insights and results.
From the Resource Library
Other helpful video advice
Our Luminous N player in action!