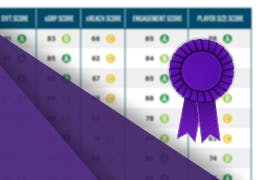 Announcements
AnyClip makes it to Video Seller Trust Index's top 10
Aug 27th, 2018
By Ari Applbaum
In the spring we launched our Content Platform in the US.
The Platform is driven by our patented Luminous AI-driven content analysis engine and consists of both the Luminous Recommendation Engine LRETM for publishers and a contextual intelligence monetization solution for Brands. 
The market feedback has been exceptional, to say the least.
Earlier this month Digiday named us a finalist for its Technology Awards.
And with a 'fresh out of the oven' product, AnyClip has already reached sky-high scores in Pixalate's Video Seller Trust Index for the US.
RockYou leads Pixalate's June index (released recently), with a ranking of 85(A), followed by our friends at Telaria and Rubicon Project, with 83(B) each.
OpenX and Teads came in third with an 82(B) grade each.
RythmOn, Pulsepoint, and AnyClip were all tied for the fourth place with an impressive 81(B).
Israeli native advertising and content discovery platform Taboola came in fifth with an 80(B) ranking, tied with Oath, a subsidiary of Verizon Communications.
We're pleased to receive this market feedback and validation and commit to doing everything to live up to our partners' trust.