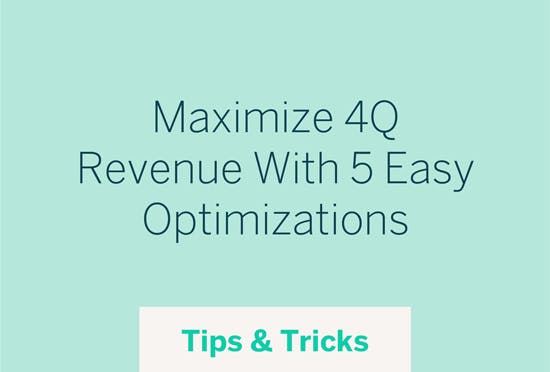 Tips & Tricks
5 Easy Revenue Optimizations to Gear Up for 4Q
Fourth quarter is here and it's going to fly by. Make sure you have these five fast-and-simple video optimizations to execute now for maximum revenue potential at the end of the year.
Raise your floors: Look back and measure your 4Q'19 video CPMs. Adjust your floor pricing on exchanges and SSPs to mirror last year's results. Apply pricing changes as early as October for maximum benefit.
Increase Viewability: Consider floating/sticky players across platforms. Elevate player positions to appear higher on pages and maximize the value of your inventory.
Allow VPAID: If you're new to video, ensure your HTML5 video player supports VPAID JS for both mobile and desktop (like all AnyClip players do!).
Increase Player Size: Raise the minimum player size used on your site to at least 650px width on desktop and full-width on mobile.
Pre-Package Your Inventory: Segment inventory according to "first look," viewability, content category etc. Work with your SSP partners to promote your offerings.
New to AnyClip? Check our these 3 Quick-start Opportunities