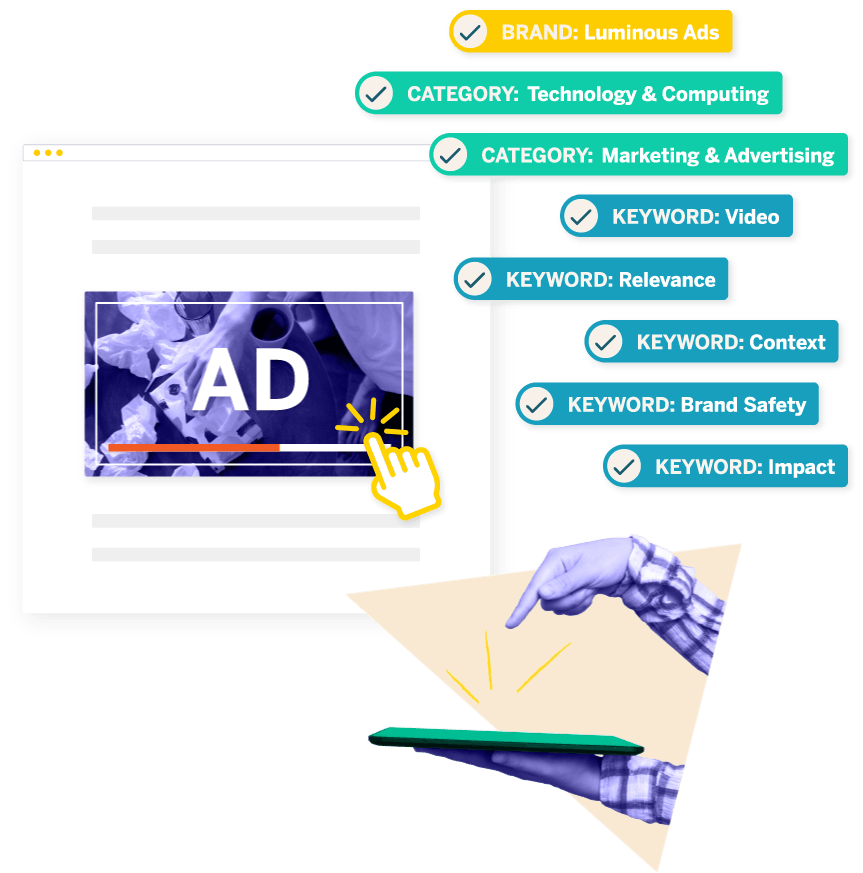 Luminous Ads
Ground-breaking technology for video impact
For marketers, get exclusive access to premium video audiences and lift the relevance of your advertising campaigns with AI-powered content targeting controls using AnyClip's Luminous Ad solutions.
Marketing Solutions
Data-powered relevance at scale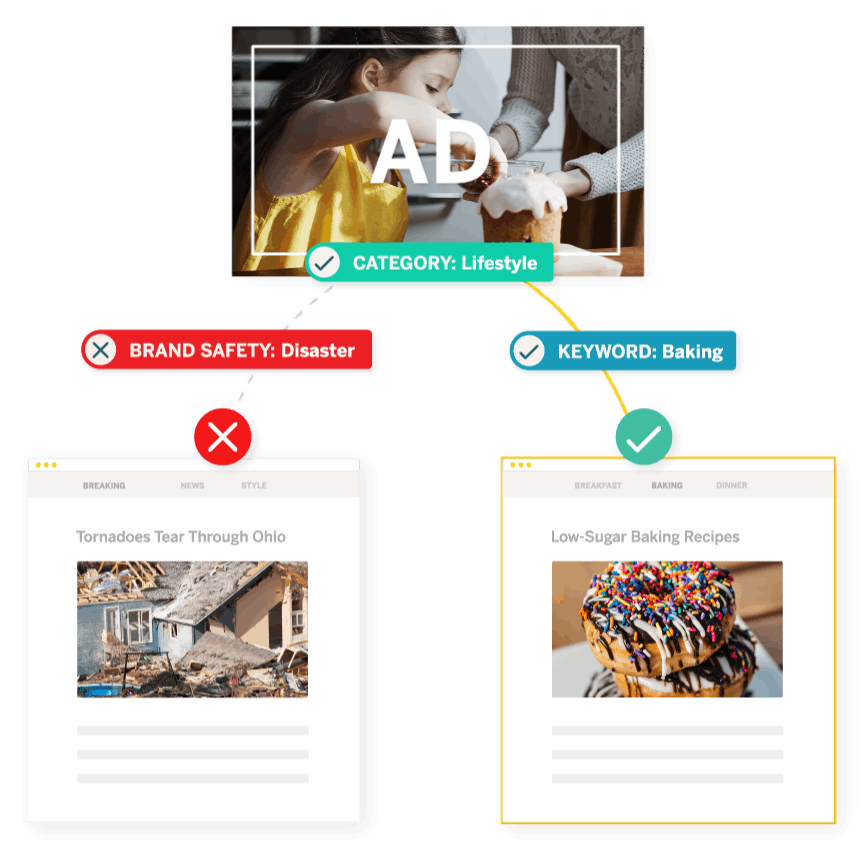 In a first-of-its-kind approach, AnyClip's Luminous Platform uses core AI technology to create and organize the data of video content. Through two complementary spheres of service, Luminous data simultaneously powers engaging streaming video solutions for media companies and advanced campaign solutions for marketers.
Gain control, accuracy and relevance
Use Luminous for your campaigns in ways that meet users' privacy expectations and exceed the capabilities of browser cookie data or publishers' manually-tagged content metadata alone.
Scale To Viewers On Premium Sites

Gain access to a half a billion viewers and billions of opportunities across hundreds of domains each month. Luminous Ads gives your brand exclusive access to premium video inventory, aligned with professionally-produced content across a range of consumer interests.

Control Brand Safety

Luminous Ads' AI content analysis flags and filters videos by more than 10 brand safety categories, giving you control to avoid appearing adjacent to negative, explicit, user-generated or competitive video content.

Align With The Right Content

With Luminous Ads, combine human-directed strategies with the latest AI data technologies to achieve better results for your ad campaigns, in ways that comply with CCPA, GDPR and other user privacy regulations. 
Do more, smarter, with video content data
Use Luminous Ads AI-powered solutions to reach more of the right viewers, gain control over your context and achieve better outcomes for your marketing initiatives.
Connect with your customers at scale

Deliver your messages to target customers as they consume video content across the Luminous Ads portfolio of sites

Reach a half a billion viewers across hundreds of premium domains 
Access exclusive video ad inventory known to be highly-viewable and highly-relevant to viewer interests 
Layer traditional cookie-based targeting on top of, or in place of, your Luminous content targeting capabilities

Maintain brand safety

Avoid aligning with content that could negatively affect how consumers perceive your brand. Go beyond the capabilities of page-crawling analysis engines to control the contexts where your ads will appear.

Use AI content analysis to more-reliably detect mature, explicit or negative video content streaming within Luminous Platform players. Filter by more than 10 brand safety categories. 
Direct your campaigns to avoid appearing adjacent to flagged content at your discretion 
Further control campaign delivery by whitelisting and blacklisting by domain, by content owner or by content formats

Align with the right contexts

Increase your relevance with viewers by controlling the context of where your video ads appear.

 Make a more meaningful impact by matching ads with relevant video contexts across the Luminous Ads portfolio. Use content data to segment delivery by over 100,000 criteria, including people, brands, keywords, actions and the Interactive Advertising Bureau (IAB) Tech Lab's Standard Content Taxonomy 
Champion your brand to in-market shoppers and conquest attention away from your competition by using content data to deliver ads next to video content featuring your products or those of your competitors

Remain flexible

Run your campaigns working with all the methods, marketplaces and formats you require.

Access Luminous Ads inventory through direct or programmatic buying channels 
Support both VAST and VPAID ad formats 
Traffic campaigns according to viewability criteria, placement type, player attributes, device type, operating systems, and specific geo locations 
Ensure quality campaign delivery using industry-standard third party verification tools, including Moat, Integral Ad Sciences (IAS) and White Ops

Get support

Track the performance of your campaigns and optimize your success with industry-leading account management support.
Objective: A major streaming entertainment brand sought to promote a new sci-fi/thriller series to the show's target audience of sci-fi and fantasy fans.

Strategy: Deliver tune-in preroll to viewers across AnyClip network, using Luminous™ content data to align ads with video content featuring the show's stars or about topics that are relevant to show themes.
Get Started
Accessing Luminous Ads's advanced AI solutions is as easy as 1, 2, 3...
Get in touch

Speak with our AnyClip team to share more about your brand and marketing needs.

Identify solutions that work best

Get details on Luminous Ads capabilities and identify the solutions that support your needs best.

Go live

Launch your campaigns. Access support from AnyClip Account Management teams when you need it.