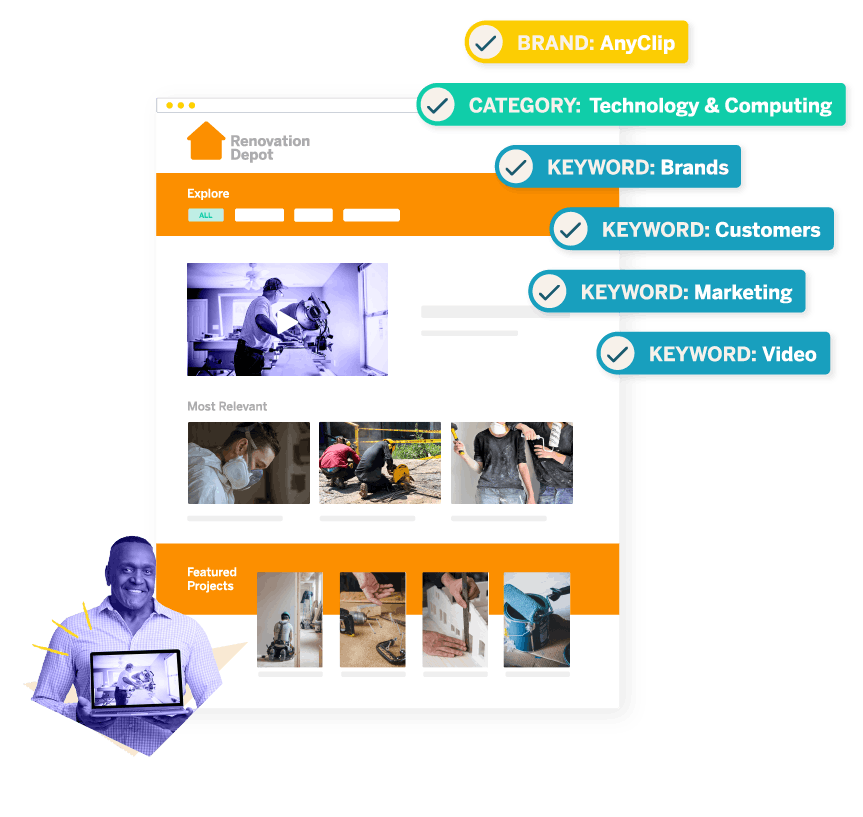 Solutions For Business
Keep customers close and make it easier for them to convert
AnyClip's Luminous Video Platform helps companies to attract, engage and convert customers with video in uniquely efficient ways, keeping attention and interaction where it matters most: on a brand's own domain.
Luminous Video Platform
Innovative tools for better video ROI
Centralize your content collection

Ingest and analyze content automatically to instantly organize large video libraries.

Ingest feeds from existing sources and social media accounts to get your brand's entire content collection in one place
Analyze content frame by frame and tag it automatically, making it easy to sort, organize and search
Organize content according to proprietary taxonomies, if needed

Keep focus on your domain

Host dynamic on-demand experiences on your own domain, making it easier for viewers to find your content and convert to purchase.

Advanced search features power easy content discovery 
Capture leads with optional content gating
Automatic content curation controls make playlist curation a breeze

Engage and Convert Customers

Use automation to make video players "shoppable" to spark transactions when viewers are most engaged.

Highlight featured products seen within video content, helping customers to discover and convert while they watch 
Match videos from your library to product or blog page contents to make relevant recommendations to active leads

Make your video searchable

Make it easier for customers to discover your content with data-powered search features.

Advanced search tools power easy content discovery by any person, brand, product, keyword or phrase

Distribute content anywhere

Share your video messages -- and collect valuable data – wherever customers, employees or partners engage with your brand.

Access an array of automated and editorially curated online video players to embed videos anywhere
Maintain control over the consistency of your brand and messaging for suppliers and resellers
Curate video hub experiences to communicate with employees and partners

Gain insights & take action

Visualize your success and inform future strategies with content-data-powered business intelligence tools.

Understand which products, hosts and keywords drive the strongest engagements and conversions
Review playback data to find the most popular videos across your digital ecosystem
Track playback activity to your conversion rate by video, channel, topic, etc.

Get support

Need support? Have a question? White-glove tech support and service are available 24/7.