Johnny Depp in Public Enemies | 2009
Clip Name: Am I Blue?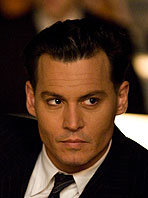 Johnny Depp in Public Enemies | 2009
About this actor
John Christopher "Johnny" Depp II (born June 9, 1963) is an American actor and musician known for his portrayals of offbeat, eccentric characters in a wide variety of dramas and fantasy films. He has won the Golden Globe Award and Screen Actors Guild award for major roles in recent films. Depp rose to prominence on the 1980s television series 21 Jump Street, quickly becoming a teen idol. Turning to film, he was notable as the title character of Edward Scissorhands (1990), and later found box office success in films such as Sleepy Hollow (1999), Pirates of the Caribbean: The Curse of the Black Pearl (2003), and Charlie and the Chocolate Factory (2005). He has collaborated with director and close friend Tim Burton in seven films, the most recent of which are Sweeney Todd: The Demon Barber of Fleet Street (2007) and Alice in Wonderland (2010). Depp has gained acclaim for his portrayals of people such as Edward D. Wood, Jr., in Ed Wood, Joseph D. Pistone in Donnie Brasco, Hunter S....
Related movies by Genre

1

OF

3
Related movies by Actors

1

OF

2
Related movies by Directors

1

OF

2