Annette Bening in the Kids Are All... | 2010
Clip Name: I'm An Adult!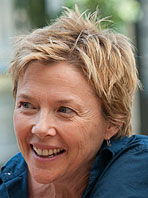 Annette Bening in the Kids Are All Right | 2010
About this actor
Annette Francine Bening (born May 29, 1958) is an American actress. Bening is a three-time Oscar nominee for her roles in The Grifters, American Beauty and Being Julia. Bening has also won two Golden Globe Awards for her roles in Being Julia and her most recent film The Kids Are All Right. Annette is also known for marrying Academy Award-winning director Warren Beatty. Bening was born in Topeka, Kansas, the youngest of four children of Shirley, a church singer and soloist, and Arnett Grant Bening, a sales training consultant and insurance salesman. Her parents, natives of Iowa, were practicing Episcopalians and conservative Republicans. Her sister and two brothers are Jane Bening (born 1953), Bradley Bening (born 1955) and Byron Bening (born 1957). In 1959, the family moved to Wichita, Kansas, where she spent her early childhood. In 1965, her father took a job with a company in San Diego, California, and they moved there. She began acting in junior high school, playing the lead in The...
Related movies by Genre

1

OF

3
Related movies by Actors

1

OF

3
Related movies by Directors

1

OF

1
Starring: Frances McDormand,Christian Bale